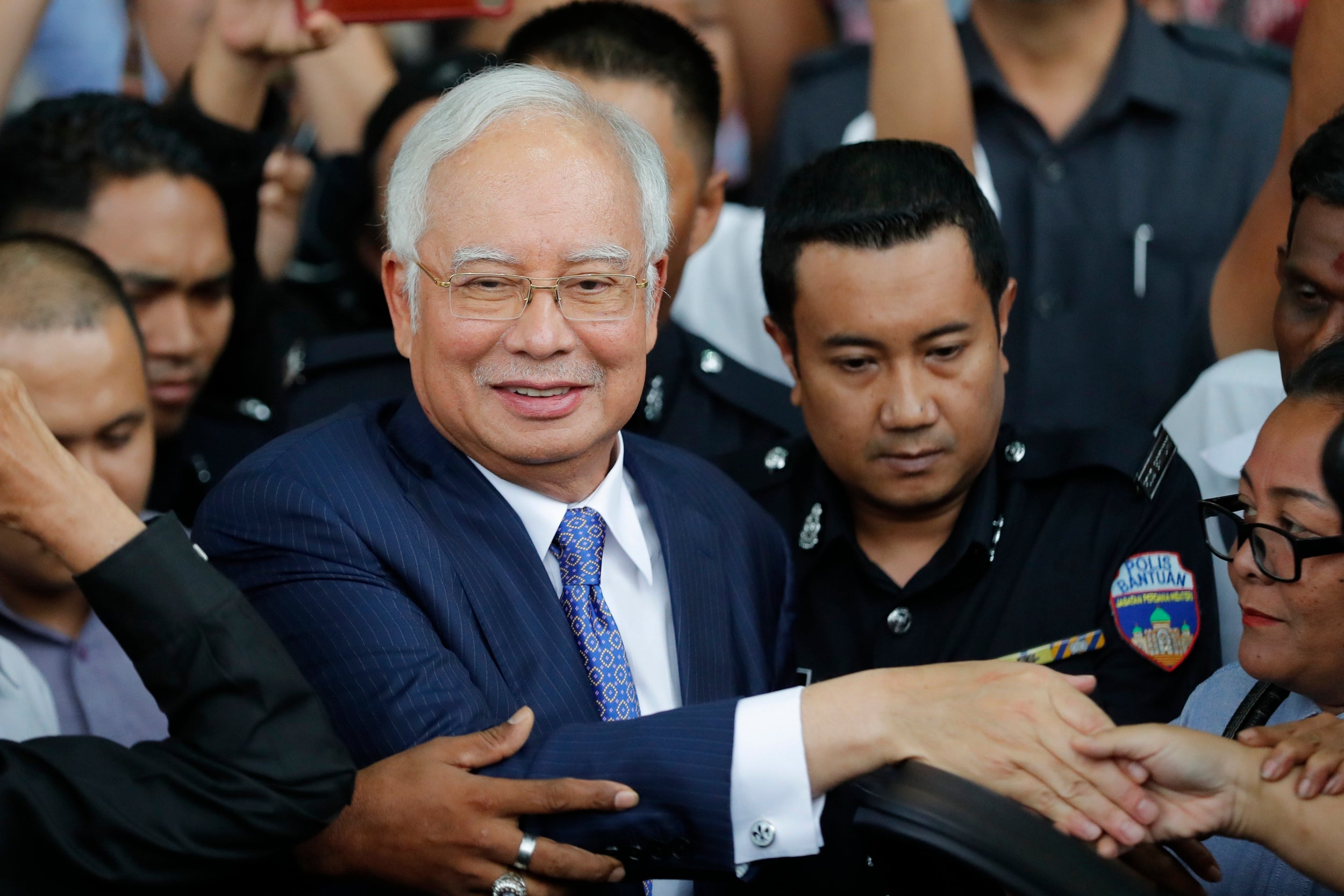 The former Malaysian prime minister Najib Razak has been found guilty on all seven corruption charges in his first trial over the multi-billion dollar scandal involving the 1Malaysia Development Berhad (1MDB) state fund.
Accused of extensive misappropriation from the state fund which he founded, Najib's corruption trial marked a stunning fall from grace for a politician who led his country for almost 10 years until 2018.
Delivering his ruling in a two-hour hearing in Kuala Lumpur, Judge Mohamad Nazlan Ghazali concluded that: "I find the accused guilty and convict the accused of all seven charges."
The trial was the first of five Najib faces, and analysts said the successful prosecution boosts the chances of him being found guilty in the remaining proceedings. In total he faces 42 charges, many of which carry lengthy jail terms of up to 20 years.
Najib has consistently denied all charges. He has said he was misled by rogue bankers and that the case against him is political.
He has promised to appeal, and on Monday night appeared to pre-empt Tuesday's verdict, writing on Facebook: "From day one, I have said this is the chance for me to clear my name. After this, we will go to the Court of Appeal. I am ready."
Outrage over the 1MDB scandal contributed significantly to Najib's defeat in a 2018 general election that saw the return of 92-year-old former prime minister Mahathir Mohamad. It was the first time Najib's Barisan Nasional (BN) party had lost control of parliament since the founding of independent Malaysia in 1957.
Mahathir was himself ousted in a snap election in February this year, returning BN to power, and Najib's trial has been seen as a test of the country's commitment to rooting out corruption.
Allegations of corruption over 1MDB have hung over Najib for more than five years, though charges were only brought once he had been defeated at the ballot box in 2018.
The fund was set up in 2009 not long after Najib, whose father and uncle were Malaysia's second and third prime ministers, took office. It was ostensibly designed to accelerate Malaysia's economic development.
But the fund accumulated billions in debt, and US investigators have alleged that at least $4.5bn (£3.5bn) was stolen from it and laundered by Najib's associates to finance Hollywood films and buy hotels, a luxury yacht, artwork, jewellery and other extravagances.
Prosecutors allege that more than $1bn of the state fund made its way into the prime minister's personal accounts. His wife and several officials from his party and previous government have also been charged with graft.
The current trial involved a charge of abuse of power, three charges of criminal breach of trust and three money laundering charges.
The judge said Najib failed to raise reasonable doubt and that prosecutors had established beyond reasonable doubt that Najib misappropriated money for his own use.
The court's decision comes just days after Malaysia reached a $3.9bn (£3bn) deal with Goldman Sachs over its role in helping 1MDB raise money.
It could have major ramifications for the current government. Analysts say it will likely boost the reputation of the current prime minister, Muhyiddin Yassin, who was fired as Najib's deputy (five years ago to the date of Tuesday's verdict) for speaking out over the 1MDB scandal.
But Muhyiddin now relies on Najib's party, as the largest in the current ruling BN alliance, to prop up his government. If it withdraws its support over the guilty verdict, it could trigger another snap election.