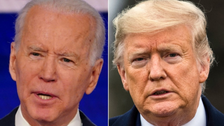 President Donald Trump is facing heat for an ugly attack he made about the faith of former Vice President Joe Biden.
Although Biden is a practicing Catholic, Trump claimed he was "against God," then launched into a rambling attack on Thursday: 
"Take away your guns, destroy your Second Amendment. No religion, no anything. Hurt the Bible. Hurt God. He's against God. He's against guns. He's against energy. Our kind of energy."
Biden later defended his faith as the "bedrock foundation" of his life. 
"It's provided me comfort in moments of loss and tragedy, it's kept me grounded and humbled in times of triumph and joy," he said, then described Trump as "shameful" for making such an attack. 
"It's beneath the office he holds and it's beneath the dignity the American people so rightly expect and deserve from their leaders," Biden said. 
"My faith teaches me to love my neighbor as I would myself while President Trump only seeks to divide us. My faith teaches me to care for the least among us while President Trump seems to only be concerned about his gilded friends. My faith teaches me to welcome the stranger while President Trump tears families apart. My faith teaches me to walk humbly while President Trump teargassed peaceful protestors so he could walk over to a church for a photo op."
 Others chimed in to defend the former vice president: 
i've covered many frivolous, dishonest political attacks

but this combination – a politician who appears non-religious distorting a picture of his religious opponent ACTUALLY PRAYING IN CHURCH, then claiming the opponent opposes religion – may be the most deranged i've ever seen https://t.co/Reb0zDem8B

— John Harwood (@JohnJHarwood) August 6, 2020
Out of all the ridiculous lies he's uttered, Trump saying Biden is against God and will hurt the Bible is right up there in the Top 5 of Stupid Crap Trump says. You know, it's be like saying Trump is against golf and will hurt Putin.

— Ana Navarro-Cárdenas (@ananavarro) August 6, 2020
To recap the president's campaign themes:

1. Joe Biden is very weak and feeble and hiding in his basement

2. Joe Biden is so powerful he will hurt an omnipotent deity and somehow hurt a holy book as well

3. Joe Biden is the candidate who has serious cognitive problems https://t.co/3NV4EU6lFA

— Kevin M. Kruse (@KevinMKruse) August 6, 2020
So @realDonaldTrump is attacking Joe Biden as "against God." Biden will "hurt the Bible, hurt God." But there aren't many in the nation less suited to talk about a biblical/Godly ethic than Trump. What an increasingly desperate, pathetic, clownish man. https://t.co/gllUlGC3ET

— Peter Wehner (@Peter_Wehner) August 6, 2020
One thing we know is that @JoeBiden is a man of deep faith, which is what allowed him to survive unthinkable tragedies in his life.
Imagine @realDonaldTrump, of all people, accusing Biden of being "against God!"
Trump hoists the Bible. Biden lives by it.https://t.co/Ymlh2l3oZD

— David Axelrod (@davidaxelrod) August 6, 2020
"Those are the rantings of someone shouting at the sky… hoping for spare change," says @chriscuomo as Pres. Trump questions rival Joe Biden's faith.

"A man responsible for my and your family really believes that a political opponent is trying to hurt God and hurt the Bible?" pic.twitter.com/ZHuxggNxF2

— Cuomo Prime Time (@CuomoPrimeTime) August 7, 2020
So, today Trump, a man that gassed peaceful protesters so he could hold a Bible upside down, said that Joe Biden, a God fearing religious man, is going to HURT the Bible & GOD! @realDonaldTrump must be the stupidest most politically inept IDIOT to ever defile the WH?

— Polly OHara 🌊🌊🌊WEAR A DAMN MASK🌊🌊🌊 (@ohara_polly) August 7, 2020
Trump: Biden is "against the Bible."

Six Republican voters against Trump respond eloquently to Trump's attempt to use the Bible and Christianity for his own, un-Christian, benefit.@RVAT2020 pic.twitter.com/lAZLHvyJWd

— Bill Kristol (@BillKristol) August 6, 2020
Today, the candidate who's never been to church & has never read the Bible accused the candidate who's a practicing Catholic of wanting to "hurt the Bible" and be "against God."

Catch today's Joe Walsh Show, 3-5pm CT. Listen live, call in 844 305 7800. https://t.co/NtcsMue7jk

— Joe Walsh (@WalshFreedom) August 6, 2020
He ordered federal agents to beat up and pepper spray priests and peaceful protestors so he could have a campaign photo op holding a Bible upside down outside a church that didn't want him there. Now he thinks he has the "God" vote?
Pathetic.https://t.co/iov7pYT4c2

— Richard W. Painter (@RWPUSA) August 7, 2020
Separation of Church and state…practice your faith….you are NOT allowed to force your faith on others. You want government out of your religion? Keep your religion the hell out of government. BTW Biden lives what he believes, Trump lives like the godless shit he is. https://t.co/95w4m0BABu

— Hedy Salazar (@queeniema52) August 7, 2020
Trump is a #Biblicalidiot

He had peaceful protesters gassed so he could walk to a church for a Bible photo opportunity

Trump has the nerve to call himself "the chosen one"

He claims Joe Biden hates the Bible even though Joe is a practicing Catholic #FreshTweets pic.twitter.com/GKX0t201Cd

— Lady Lizmo Blue 🔄 🐝 Late Boomer (@lizmoblubuckeye) August 7, 2020