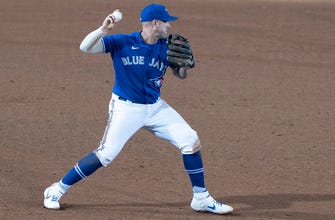 The "Mayer of Ding Dong City" is back in Milwaukee.
Well, back in the organization at least.
Travis Shaw officially signed a minor-league contract with the Brewers, the team announced Tuesday. He will participate in spring training.
Shaw played 382 games for Milwaukee from 2017-19, mashing 70 homers, 62 doubles and a .239/.335/.456 slash line. His best season came in 2017 when he logged 31 homers, 101 RBI and a career-best .273/.349/.513 slash line. Shaw hammered an additional 32 dingers in 2018.
However, he fell off the wagon in 2019. Shaw managed a .157 batting average in 86 games with Milwaukee and was non-tendered after the season. In 2020, Shaw appeared in 50 contests with Toronto and slashed .239/.306/.411 with six home runs.
Milwaukee open its 2021 spring training schedule Sunday with a tilt against the Chicago White Sox.